Pumpkin Carving Party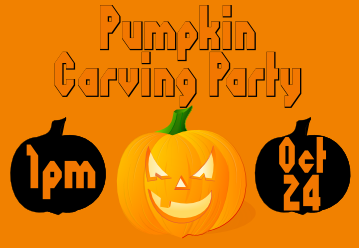 Please call or stop by the library to register in advance if you want to attend this program. We will have 20 socially distanced carving spaces set up on the lawn for each session. The library will provide pumpkins, carving tools, and stencils at each station. Tools will be sanitized between sessions.
Sat, Oct 24th, 1-2:30pm
and
Sat, Oct 24th, 2:30-4pm
.
Grab-N-Go Craft Kits
A new craft will be available
every other Monday
and will include craft supplies and instructions. Call the library to reserve a craft kit, or simply stop by the main desk to pick one up.
Harding Way A to Z Hunt
Individuals and families of all ages are invited to participate in a photo scavenger hunt. We have taken 26 photos, one for each letter of the alphabet, and you need to identify what business or organization they are from.
(Read More.)
Completed answer sheets should be returned by October 31st at 4pm. Two individuals will be randomly chosen from these entries to win a prize package including gift certificates and local merchandise. Forms can be picked up at the library or printed during the month of October. All photos can be found along Harding Way between Liberty and Union. Each photo is of a letter taken from the name of a business or organization.
Activity Kits
Be creative and enjoy new experiences in the privacy of your home.
How does it work?
You must be 18 or older to check out the Orion Starblast Telescope and the Mobile HotSpots. For all other kits, you must be at least 13 years old.
Speak to the librarian at the Circulation Desk to request an Activity Kit.
To check out, you must have an active library card in our system.
If you would like to borrow a mobile hotspot, you must sign a rental agreement.
Enjoy for 7-14 days, and return.
Current Activity Kits
Baking
Blood Pressure
Coloring
Gardening
Ice Cream Maker
Metal Detector
Mobile Hotspots (5)
Telescope
Snow Cone Machine
Tools
Pumpkin Carving
Activity Kit Guidelines:
Patron must return kits to the Galion Public Library.
Patron is responsible for all contents in the kit. There will be a charge for lost items, including replacement of the whole set if items cannot be purchased individually.
Please clean appropriate items after use.
Most kits circulate for one week. (Mobile hotspots circulate for two weeks.)
Late fees are $1 per day on kits, except for mobile hotspots, which are $2 per day.
Mobile hotspots cannot be renewed. Other kits can be renewed unless there is a hold for another patron.
Library staff will examine the contents with you when checking a kit in or out.
A maximum of two kits may be checked out at a time.
Ancestry Library Now Available Remotely
I have just been informed that our state-provided subscription to
Ancestry Library
, no longer requires you to be in the library to access the service. You can access it from home
using this link
.
Book Drop Open: Please Return Your Items
If you have library items out that are overdue, now is the time to return them. If you can't make it in during our limited hours, we have 24-hour book drops by both entrances.
(Read More.)
Because of the pandemic, we have been waiving all overdue fines since March; but the temporary fine amnesty will come to an end soon. Please return your overdue library items.
Watch this space for more library programs and news.