Yoga on the Lawn
We are excited to offer the Yoga on the Lawn program again this year. Oasis Yoga Studio will be holding sessions
each Tuesday at 5:30 PM throughout August and September
, weather permitting. We do ask that you bring your own mat or towel to use to each session. Registration is requested, but not required. Participants are asked to maintain social distance during the event.
Limited Opening
Starting
July 1st
, we will be opening the building to the public on a limited basis, with some restrictions.
Only the downstairs entrance will be open. The historic front entrance will remain locked.
Hours will be 9:30am-5pm Monday through Friday, and Noon-4pm on Saturdays.
The library asks that all children be accompanied by an adult.
The wearing of masks or face coverings is strongly encouraged, and we ask that everyone adhere to social distancing guidelines and maintain a minimum 6-foot distance from others.
Limited computers will be available (due to distancing requirements and space limitations). Computers will be booked for 30-minute time slots starting every half hour, and will be wiped down after each use. We encourage you to call ahead to reserve a time slot, so you don't have to wait for a computer once you arrive.
There will be a limited number of people permitted in the building at any given time, so we ask that everyone keep your visits brief when possible, to allow for others to have a turn.
Curbside service will also remain available. If you are not comfortable coming into the building, you can continue to pick up books and movies at the door and return them in the book drop. In fact, it's encouraged.
Thanks for bearing with us during this crisis.
Ancestry Library Now Available Remotely
I have just been informed that our state-provided subscription to
Ancestry Library
, no longer requires you to be in the library to access the service. You can access it from home
using this link
.
Overdue Notices, May 2020
If you have recently received an overdue notice from our automated system, please
ignore it
for now, with our apologies for any confusion. We are currently still closed. You will
not
be expected to pay any overdue fees as a result of this crisis.
(Read More.)
We do hope to start providing curbside service again soon. Watch this space for more details.
Grab-N-Go Craft Kits
A new craft will be available
every other Monday
and will include craft supplies and instructions. Call the library to reserve a craft kit, or simply stop by the main desk to pick one up.
Outdoor Book Sale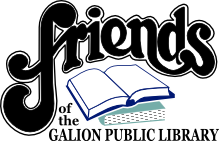 Weather permitting, there will be a used book sale on the library's east lawn.
(Read More.)
used books, magazines, tapes, and CDs
lots of kids' books, arts and crafts books, and novels
materials will be laid out on tables on the lawn
all materials will be by donation
masks and social distancing required
event will be canceled if there is inclement weather
your generous donations support our library
Sat, Sep 12th, 10-2pm
.
Activity Kits
Be creative and enjoy new experiences in the privacy of your home.
How does it work?
You must be 18 or older to check out the Orion Starblast Telescope and the Mobile HotSpots. For all other kits, you must be at least 13 years old.
Speak to the librarian at the Circulation Desk to request an Activity Kit.
To check out, you must have an active library card in our system.
If you would like to borrow a mobile hotspot, you must sign a rental agreement.
Enjoy for 7-14 days, and return.
Current Activity Kits
Baking
Blood Pressure
Coloring
Gardening
Ice Cream Maker
Metal Detector
Mobile Hotspots (5)
Telescope
Snow Cone Machine
Tools
Pumpkin Carving
Activity Kit Guidelines:
Patron must return kits to the Galion Public Library.
Patron is responsible for all contents in the kit. There will be a charge for lost items, including replacement of the whole set if items cannot be purchased individually.
Please clean appropriate items after use.
Most kits circulate for one week. (Mobile hotspots circulate for two weeks.)
Late fees are $1 per day on kits, except for mobile hotspots, which are $2 per day.
Mobile hotspots cannot be renewed. Other kits can be renewed unless there is a hold for another patron.
Library staff will examine the contents with you when checking a kit in or out.
A maximum of two kits may be checked out at a time.