Newest Audio Book: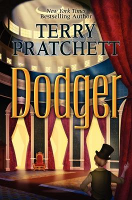 Dodger by Terry Pratchett
A storm. Rain-lashed city streets. A flash of lightning. A scruffy lad sees a girl leap desperately from a horse-drawn carriage in a vain attempt to escape her captors. Can the lad stand by and let her be caught again? Of course not, because he's... Dodger.
Seventeen-year-old Dodger may be a street urchin, but he gleans a living from London's sewers, and he knows a jewel when he sees one. He's not about to let anything happen to the unknown girl, not even if her fate impacts some of the most powerful people in England.
From Dodger's encounter with the mad barber Sweeney Todd to his meetings with the great writer Charles Dickens and the calculating politician Benjamin Disraeli, history and fantasy intertwine in a breathtaking account of adventure and mystery.
Beloved and bestselling author Sir Terry Pratchett combines high comedy with deep wisdom in this tale of an unexpected coming-of-age and one remarkable boy's rise in a complex and fascinating world.
Available in regular print or audio ebook.
Discuss this item on our forum.
---
Until the End of Time by Danielle Steel
Two couples, four decades apart: one believes that if lovers die, they find each other again in another life. Bill, a dedicated young lawyer working at his family's prestigious New York firm, leaves everything he trained for to follow his dream and become a minister in rural Wyoming. Jenny, his wife, is a stylist whose heart and soul are invested in fashion. She leaves the milieu and life she loves to join him. The certainty they share is that their destinies are linked forever.
Fast forward thirty-eight years. Robert is a hardworking independent book publisher in Manhattan who has given up all personal life to build his struggling business. He is looking for one big hit novel to publish. Lillibet is a young Amish woman, living as though in the seventeenth century, caring for her widowed father and three young brothers on their family farm. In secret at night, by candlelight, she has written the novel that burns within her, and gets it into Robert's hands, wrapped in her hand-stitched apron. He falls in love first with the book, and then with the woman he has never met, living in the sequestered world of the Amish, a world without telephones, computers, electricity, modern conveniences, or cars.
Although Lillibet faces banishment from her family and community, she embraces the opportunity to publish her novel, and she is irresistibly drawn to the man who has heard her voice. Destiny is at work here. Fate draws her from her horse-and-buggy life toward his and toward the publication of her novel.
Available in regular print or large print.
Discuss this item on our forum.
---
Older Audio Books: